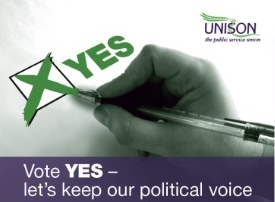 UNISON is calling on all our members to vote YES in the Political Fund ballot which opens on 1 November and closes on 30 November.
Kate Ramsden, Branch Chair, said, "UNISON has a tradition of successful political campaigning both at national and at local level.
"The law says that unions must have a specific political fund to pay for such work and that a ballot has to be held every 10 years for it to continue.
"Many of our members don't appreciate that UNISON is unique in having two parts to its political fund.  You can choose whether you want your political fund payment (which is a small part of your normal subs rate and does not cost you anything extra) to go into the General Political Fund (GPF), the Affiliated Political Fund (APF) - which funds the Labour Party - or not to pay into the fund at all.
"All this ballot is asking is for members to confirm these arrangements, which have been in operation since the formation of UNISON."
Branch Secretary, Inez Teece added, "UNISON's National Executive Council is recommending a yes vote to keep a strong political voice for the union at European, national and local levels. Our political fund is what allows us to take campaigns into the political arena."
The ballot papers and materials will be mailed out with U magazine in late October. For more information or if you have not received your ballot paper by 10 November please call 0800 0 857 857.